Education
Under this heading the trust is working to educate about actual principles of Ayurveda to masses i.e.,

For Ayurveda professionals

For Ayurveda students

For general public
Discussion sessions:




Periodical CME (Continued Medical Education programs) are organized by the trust in order to encourage gathering of Ayurveda students & professionals to exchange, learn & update knowledge & advocate the best practices of Ayurveda. Apart from CME's,

Seminars on various topics

Workshops

Practical demonstration of rare procedures

Education tours, visits to various institutions etc., are being regularly organized by the trust.

All of such activities are aimed at improving the theoretical knowledge and practical exposure to various aspects of Ayurveda practice.
Study and integration of allied Indian sciences:




Interaction with the experts in the various branches to make use of other ancient Indian sciences such as Yogashastra, Jyauthisha Shastra and Nadi Vijnana that are very essential & complimentary to Ayurveda in treating the patient holistically.
1. Guru shishya parampara program
The first & foremost initiative to start the trust was in order to preserve our ancient way of education 'Guru shishya parampara'. It was inspired by Guru Vaidya Vallor Sankaran Namboodiri and his disciple Dr. Ashwin Shastry who studied in this system.
Guru shishya parampara was the ancient Indian system of education where the disciples used to stay with their gurus in ashrams & learn for indefinite period. They were thought the intricacies of any science they were interested, certified & sent out only after the perfection of that particular science. This system specially was very much suitable to study Ayurveda & understand it in its real sense.
Today's institutional education of Ayurveda has many lacunas over the traditional guru shishya parampara. Hence trust intended to fill these lacunas by providing an opportunity to the aspiring students to study under Guru shishya parampara.

Who can study under the program?
Interested students who have completed either BAMS or MD can apply for the program.
They will be scrutinized under the criteria's of the trust & selected candidates will be chosen for the program.

What is the pattern of the program?
Selected students are free to choose their subject of interest which they want to study & get specialized in. They will be given the basic refreshing classes by the doctors in the trust. Later they will be posted to study under gurus who are specialized in that particular field. Even basic exposure to modern science will be provided to the student in the subject. They will be learnt to understand & utilize the modern technology & skills according to principles of Ayurveda.

What is the duration of the program?
There is no time limit for the program. The student can learn for unlimited time till he / she feels they have got the mastery over the subject. Minimum study period is 2 years.

What is the fee for the program?
Trust provides scholarship to the students, which includes food & accommodation charges. All other expenses during the study will be taken care by the trust through the fund sponsored by our donors.

What we expect from students?
All we demand is wholehearted dedication to true Ayurveda, genuine interest in studies & utmost involvement to utilize the study period efficiently.

What do I do after the completion of the program?
After the completion of program, trust expects the doctors to make use of the knowledge obtained to serve the society. It wishes them to reach out to people with genuine Ayurveda & its concepts.
They will be bound to work with the trust for minimum of 2 years as specialist consultants. Appropriate remuneration will be provided during that period. They may continue to work with us even after 2 yrs or can move out to practice on their own. Overall purpose is to make their Ayurveda knowledge available to common man & needy.

What is the future vision of the program?
Our vision includes building a team of true Ayurveda vaidyas (doctors) who are specialized and confident in various specialties or branches of Ayurveda. This team will have both theoretical knowledge as well as practical experience in their specialization. Thus, it would enable people to avail special attention and therapies to their specific health problems.

Students who have studied under Guru shishya parampara
1. Dr. Sangeetha : She studied Ayurveda gynecology & obstetrics under this program. She is now making use of this knowledge & serving the society.
2. Dr. Priyanka Shandilya : She studied Ayurveda cardiology under this program. She is now efficiently delivering this knowledge to the needy patients in our trust hospital.
---

2. Ayurveda classes & Study circle :
Through study circle our effort is to provide "Finishing school" to Ayurveda students. After the completion of contemporary institutional education, majority of the students will have unclear ideas of implementing the textual knowledge in their clinical practice. In such scenario, we in our circle conduct practical oriented studies to apply the textual knowledge clinically in most effective manner.
Every year we conduct classes of Ashtanga Hrudaya to students to stabilize the foundation of basics of Ayurveda. Dr. Prasanna Venkatesh T.S, the founder of the trust teaches the text with his practical experience & guidelines given by his gurus. These classes will be enriched with his more than 15 yrs of practical experience especially in the field of Panchakarma.
The classes are conducted free & any interested students can attend & make use of the opportunity.
---

3. Internship program : Trust allows students to carry out their internship in the hospital for free. Food & accommodation will be the responsibility of the students. During their internship along with the hospital postings they can also attend the classes conducted by the trust.
---

4. Recitation contest : Recitation of verses from "Ashtanga Hrudaya", one among the basic classical texts of Ayurveda is conducted periodically and the winner is rewarded with cash prize to encourage study of the original classic texts in Samskruta.
In this, any Ayurveda student can recite shlokas (verses) from Ashtanga Hrudaya – Sootra sthaana with a sound knowledge of the meaning, in-front of the judges from Prakruti Ayurveda Pratishthana and can win CASH AWARD!
Group A Awards pattern

| Part 1 | Part 2 |
| --- | --- |
| 1 – 4 Chapters | 5 – 10 Chapters |
| Rs.2000 ( + Viva ) | Rs.3000 ( + Viva ) |
Group B Awards pattern
11 – 15 Chapters
Rs.2500.00 ( + Viva )
Group C Awards pattern

| Part 1 | Part 2 | part 3 |
| --- | --- | --- |
| 16 – 20 Chapters | 21 – 24 Chapters | 25 – 30 Chapters |
| Rs.2500 ( + Viva ) | Rs.2000 ( + Viva ) | Rs.3000 ( + Viva ) |

Join / Enroll

Rules & Regulations :
When participant is ready, Pratishthana will give the date, time and venue. No time limit to learn!

One should recite the Shlokas properly (as per Samskrita grammar rule).

Judges from Prakruti Ayurveda Pratishthana will judge the recitation

Decision of our Judges is final

Official reference book – ASHTANGA HRIDAYA (Moola) with Hemadri-Arunadatta Teeka (Chaukhambha Publication)

If necessary, Pratishthana may provide the CDs of Shlokas for the learners

Students of Ayurveda (UG / PG) can recite and win cash price in all groups.

To win the cash price, one has to recite any one complete part of any group

Judges may ask to recite any shlokas in a random order.

Apart from recitation there will be Viva, in which clinical application (of Shlokas) will be tested and added cash price will be offered.

No TA / DA will be given to attend to the contest.
---

5. Vaidya Darpana :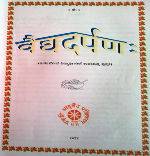 A Samskruta textbook for Ayurveda students has been designed under the guidance of Dr. Vd. Deepak Bhat, to assist in going deeper into the texts of Ayurveda written in Samskruta.

---

6. Library : A library has been set up to include Ayurveda text books and digital formats (CD's) of Ayurveda information, in memory of Late Dr. Vasanta L., who dedicated her life for Ayurveda. Library consists of Ayurveda classical texts & other useful books concerned with various subjects for students. The collection includes even general books like novels, magazines, books about yoga & other shastras etc., useful for patients to study during their stay in hospital.
---

7. Field visits : Field visits to the hillsides and forests are periodically conducted to explore and identify the medicinal plants for enhancement of the knowledge. Chamundi Hills and Lingambudhi Lake of Mysore, Siddarabetta near Tumkur are some of the areas visited which are rich with herbal plants.
Awareness is the key to avail the best benefit of any knowledge. Even though Ayurveda is the oldest known science of healthy living, it is unknown or partially known to the people of present day. Also, there are so many myths and misbelieves attached to Ayurveda and its practice. Hence, creating awareness by passing on authentic information to public as well as students of Ayurveda is our aim. We conduct various seminars, workshops, interactive sessions etc. to spread true Ayurveda among masses. If you are interested in hosting such events, please contact us for information and booking.
Ayurveda awareness programs

Health awareness programs

Healthy food and cooking classes as per Ayurveda

Classes on home remedies

Free health check up camps

Programs about usage of medicinal plants & their free distribution